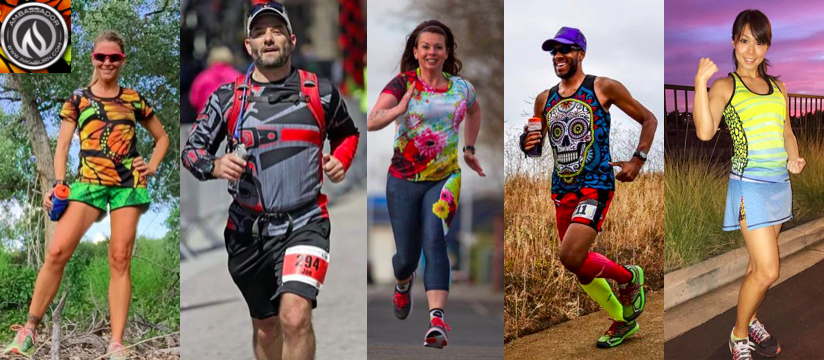 Thank you for your interest in becoming an INKnBURN Ambassador! Our mission is to create a community that dares to be different. At INKnBURN we stand up, stand out, and stand tall while staying active! Are you ready to join our team?
INKnBURN Ambassador exclusive benefits include:
A discount on select INKnBURN products.

Access to an active private Facebook Group Community.

Early access to new products and designs.

The opportunity to be featured in our social media, website, and newsletter.

And more!
We are a team of athletes at many different levels with various backgrounds who celebrate and empower each other's accomplishments. As an INKnBURN Ambassador, we EXPECT you to:
Be a positive and inspiring advocate of INKnBURN within your local community.

Be active on social networks.

Tag INKnBURN across your social media platforms when wearing INKnBURN Gear.
We want others to be excited about the way you live your life, and see how INKnBURN supports your lifestyle!

Please note in order to be considered, you must already own and love INKnBURN gear and have public social media accounts! This brand ambassadorship will be a 6 month commitment.
INKnBURN AMBASSADOR APPLICATION
PLEASE COPY AND PASTE THE APPLICATION BELOW AND EMAIL YOUR COMPLETED APPLICATION WITH 3 OF YOUR FAVORITE PHOTOS WEARING INKNBURN APPAREL AT AMBASSADOR@INKNBURN.COM.
Full Name:
Email:
City:
State:
Country:
Occupation:
What do you do to stay active and healthy?
Are you participating in any races or competitions? If so, please list a maximum of 5 races/competitions you will be participating in this year.
Approximately when did you acquire your first piece of INKnBURN and what design was it?
Are you currently under contract as an Ambassador/Sponsored Athlete with any other company? If so, please list.
Are you affiliated with any local running stores, gyms, yoga studios, fitness groups? If so, which one/s?
Are you a fitness professional or member of any athletic organization, sport, or league?
Why do you want to be an INKnBURN Ambassador?
How will you promote INKnBURN in your community?
Are you active on social media?
Please provide the following links for any social networks you are active in daily and the number of followers:
Link to Instagram Account & # of Followers:

Link to Facebook Account & # of Followers:

Link to TikTok & # of Followers:

Link to Twitter & # of Followers:

Link to Youtube & # of Followers:

Link to Blog & # of Followers:

Link to Website & # of Followers:
Is there anything else you would like to share?